I recall reading a quote from Madeleine Albright several years ago in which she expressed concern regarding what she thought was a deterioration of our values, which she saw as the most serious of all the threats facing our nation. With that in mind, I decided to have a go at looking at what values are important to us and why. The first ones that came to mind were courage and truthfulness since they were the ones most often alleged deficient during the impeachment trial.
It never occurred to me that I might see two presidents impeached in my lifetime. As a matter of fact, I am not sure I fully understood the meaning of that word until Nixon was threatened with one.
The outcome of this latest effort was entirely predictable since the person directing the show guaranteed that Mr. Trump would not be removed from office, and proudly announced that he would be working on the defendant's behalf (it really does help to have the right people on your side).
Is Anybody Watching?
As you might expect, an old retired dude like myself with nothing better to do, other than write stupid blogs, spent a fair amount of time watching the impeachment trial. There were lots of redundancies which allowed me to walk away for long periods of time knowing that whatever I missed would be repeated several times.
Unfortunately, the camera angles were fixed therefore; not conducive to monitoring the proceedings, and essentially shielded the senators, other than the presenters, from being observed. It would have been interesting to have a camera panning the senate jurors' faces to see if there was any sign of interest or emotional response to the proceedings. We were told that many of the senators appeared to be attentive and that some were even taking notes. I was surprised to hear of such signs of interest since the verdict had been determined long before the trial began, and that the only audience who might be interested would be people like me who sat watching the spectacle on TV.
Stay Calm and Be Senatorial
It is apparent that the guys on opposite sides of the aisle don't like each other very much. Consequently, McConnell had spared no effort to minimize the possibility of violence, and to project an aura of proper senatorial decorum. Jail time was promised for any raucous behavior, attendance was mandatory, and spontaneous commentary was forbidden, as were any efforts to leave the chambers during proceedings, regardless of the status of senatorial prostates.
Such precautions did turn out to be wise for it did not take long for the presentations to become personal with each side accusing the other of dishonesty. The Republicans accused the Democrats of engaging in a witch hunt and a sham motivated by their anger over their defeat in the 2016 election, while the democrats characterized the democratic defense of the President as a cover-up, and even worse, that republican senators lacked the courage to risk becoming the target of Trump's anger. And of course, each side accused the other of being untruthful. It occurred to me that there was a time when such values were so important to one's self image that to suggest one was a coward or a liar would likely provoke an assault, at times even resulting in a duel.
As I listened to the exchange of insults, I wondered if we have become more civil than we were during other times of divisiveness in our country, or is it that our values have changed? There have been a few episodes of serious brawls in Congress proving that debate has not always been genteel.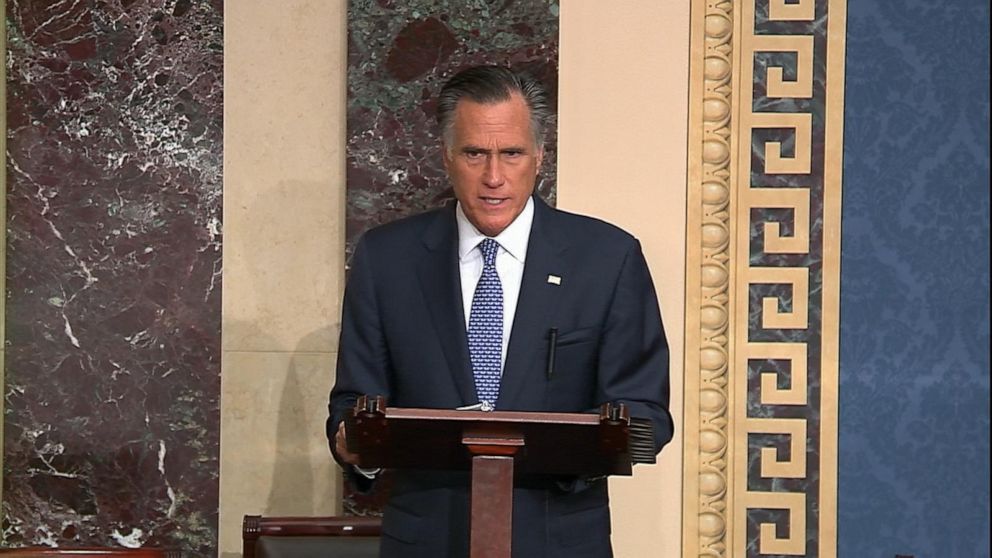 As I was writing this, Mitt Romney in a senatorial address, explained his vote to convict the President. He acknowledged that as a result, he expected to be subject to ridicule and worse by many of his fellow Republicans, but insisted that the president's behavior, which he considered "an assault on our fundamental values" left him no choice. As expected, he is now hailed as a hero by Democrats and vilified as a traitor by the Trumpsters, i.e., heroic for the courage to follow his conscience and a traitor by being disloyal to the President. Click here to watch Romney's Speech
Therein lies a problem when establishing a set of preferred values. While loyalty is generally an admired value, unfettered loyalty can lead to undesirable or even evil results depending on the recipient.
History and Misplaced Loyalty
History is replete with examples of the disastrous effects of misplaced loyalty. We ordinary citizens "pledge allegiance to the flag and to the Republic for which it stands………" The military, civil servants, and those elected to public office pledge: "I do solemnly swear (or affirm) that I will support and defend the Constitution of the United States against all enemies, foreign and domestic; that I will bear true faith and allegiance to the same………".Click here to read the Senate's Oath of Office and its history.
Note the emphasis is not on loyalty to a person or office, but loyalty to the Constitution. Such is not always the case as in North Korea where loyalty is to "our dear Leader.
Same with Hitler:  "I swear to God this sacred oath that I shall render unconditional obedience to the Leader of the German Reich and people, Adolf Hitler, supreme commander of the armed forces, and that as a brave soldier I shall at all times be prepared to give my life for this oath."
Those are just two examples, but pick any authoritarian leader in history and you will most likely find a demand for personal loyalty rather than loyalty to an ideal. Former FBI director Comey accused Trump of demanding his personal loyalty, which if true, is indeed frightening.
Courage on the other hand is defined in the Oxford dictionary as:
COURAGE: the ability to do something which frightens one
Since fear is a universally human feeling, we generally admire those who have been able to overcome it with exceptions for those whose fear is of their own doing or whose fear results from doing harm to others. For example, I imagine a bank robber must overcome his fear in order to do his thing. However, I don't ever recall hearing Willie Sutton referred to as courageous, nor were the Kamikaze pilots of World War II.
Bill Maher was fired by ABC for objecting to Bush's comment that the 911 attackers were cowards. Thus, it would appear that society's definition of courage should include a qualifier indicating that the means one uses to overcome their fear is socially acceptable. Or, is it that courage, like beauty, is in the eyes of the beholder.
Fear has evolved to become the most powerful of the emotions because it is necessary for our survival. Without fear, our earliest ancestors would have become meals for critters who were stronger and faster than they were.
Fear and Anxiety
However, we all know  that fearfulness is also stressful. Phobias are fears on steroids, so exaggerated as to be irrational and often debilitating. Most anxiety disorders have at their root some type of fear, even though we may not be able to identify its source. Those afflicted with psychoses may in some cases experience delusions and hallucinations so intense as to produce abject terror.
The severity of the pain I witnessed such patients experience often left me in awe of the courage required for them to face each day. They also suffered fears of alienation by friends and discrimination in the workplace due to the stigma of mental illness, which often leading to a reluctance to get help. It was not unusual for my patients to ask if they could come in through the back door. Imagine the courage it must take to endure mental illness, which is only trumped by the courage to seek help despite discouragement and disdain from family, friends, and work associates.
In his speech Romney described the torment he felt in coming to his vote to convict, not only due to his religious beliefs, but also the effect it would have on his relationships. Events over the last couple of days indicate that his fears in that regard were warranted. In the days that followed the moment he strayed from the party line he has been vilified by many "friends" and colleagues. Even more disturbing is the news that he has been uninvited from a major Republican meeting due to "fears for his safety."
Courageous Patriotism
Meanwhile, Lt. Col Vintman, who testified at Trump's impeachment, has been fired from his job at the White House and walked off the grounds. This is the same guy who in his opening remarks commented on his pride to have become a citizen of a country where he would not be jailed or executed for speaking truth to power as would be the case if he was still in Russia. Click here to read a transcript of his opening statement.
As the purge continues, Gordon Sondland finds that a million bucks donated to the Trump cause does not give one job security, for he has been fired from his ambassadorship, presumably for testifying. Click here to read Sondland's opening statement. All those who defied orders to refuse to testify are now paying the price for their courage.
If any of you have read my previous blogs you may recall mention of my favorite quote from Lao Tzu
To be loved deeply gives us strength. To love deeply gives us courage
Patriotism
Patriotism is defined as love of one's country. Every person involved in this investigation and impeachment procedure has taken the same oath, yet opinions regarding the outcome are almost entirely dependent upon one's political party affiliation. Those with nothing to gain, but much to lose, who chose to answer the call and tell their story under oath, are the heroes. They are the ones demonstrated courage.
What Values do You Value?
While writing this, I found myself wondering if our values have changed and if so why. I would be interested in your feedback as to what you think, and especially what values you feel are most important.  In my next blog I plan to explore the concept of truth, since it has become so elusive, and at times difficult to define.
Please let me know what values are most important to you.
Thanks for reading!
Editor's Note: While doing research for links and pictures on the internet as the proud editor of eshrink's blog, a tagline I had never noticed before, jumped out of me. I thought I would share:
"Democracy dies in darkness"

Keep shining the light ESHRINK!!!