ARE WE SLOW LEARNERS?
Those who do not know history are doomed to repeat it. – Edmund Burke
Winston Churchill paraphrased Burke thereby reminding us that a much less painful education can be gained by learning about the mistakes of others rather than: "learning the hard way."
The Repetition Compulsion
When it comes to governing, it seems clear that we continue to replicate the same stupid mistakes of the past. Freud described this as an inherently human characteristic which he named the Repetition Compulsion, arising from "the desire to return to an earlier state of things." It seems more likely to me that our government often makes poor decisions as a result of a lack of historical perspective, which brings up the question as to whether they choose to ignore lessons of the past or simply "do not know history."
Who Needs History?
According to the American History Association, there has been a recent and significant decline in the number of college students who opt for a major in history. This is not surprising when one considers the soaring student loan debt in this country. These kids (anyone under the age of 40 is a kid to me) are primarily interested in finding a way to make a quick buck, and there aren't many companies recruiting historians.
There is also the massive technological change which has occurred in the space of one generation, apparently leaving many to feel the old rules are no longer appropriate and that we old folks are "stuck in the past" and one should strive to live in "the here and now." Further evidence of the lack of interest in what has gone before, is seen in the near collapse of the antique market. Nearly all the shops in my area that used to hawk old stuff are gone. The PBS TV program Antique's Roadshow frequently mentions the decline in value of items treasured by many of my generation. Many of us who have collected and admired such things often find little interest on the part of our inheritors. Even family heirlooms sometimes take a hit and no tears are shed as so called "time honored" traditions are discarded. There is a bright spot however, as there seems to be renewed interest in genealogy largely due to interests in DNA, the more ready availability of records due to digitization, and companies like Ancestry.com. Hopefully, this interest in genealogy may provoke more curiosity about what has gone before, and help us avoid repeating some of our ancestor's screw ups.
One thing that history can teach us is that democracy is fragile. In my generation alone, we saw Germany, Italy, Spain, and multiple south American and African countries become dictatorships. And now we see that truth is played out again as democratic governments throughout the world become more authoritarian: witness Turkey, Poland, and Venezuela. Yet, we Americans naively think it could never happen to us. As students of history, the dangers were evident to our country's founders, exemplified by Franklin who responded to a question as to what kind of government had been formulated by saying: "a republic if you can keep it" (popular usage has caused us to use the word democracy as synonymous with republic).
Beyond Rationale Debate to Divisiveness and Polarization
We live in a time when Americans are more divided than at any time in the past 200 years. Many believe this divisiveness presents a grave threat to the republic, for divide and conquer has long been the mantra of those who desire to subjugate others. Gone are the days of rational debate, conciliation, and the search for truth among our lawmakers and the public at large. Respectful dissent by our politicians is frequently replaced by character assassination and name calling. Allegiance to one's political party is paramount consequently; independent thinking is frowned upon. As a matter of fact, members of each party are given "talking points" to regurgitate whenever questioned about issues.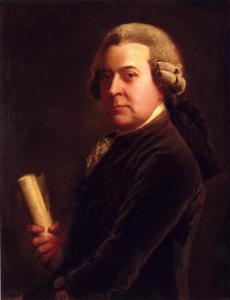 But the desire to be re-elected is the most powerful motivator of adherence to the party line. Oh yes, group think is alive and well in the halls of congress and the deliberations of elective officials throughout the nation. Perhaps John Adams had a point when he described the two-party system as: "…the greatest political evil under our Constitution."
Too much information. Not enough knowledge.
There are obviously many other factors that contribute to our divisiveness, such as social media which allows false accusations and conspiracy theories to be promulgated without consequence (hence, the term "keyboard courage"). Our President's friend, Mr. Putin, has made good use of the internet with his targeted bots designed to sow confusion and fear in the electorate. Of course, we will never know to what extent those activities affected the outcome of the past presidential election. Meanwhile, we seem to have learned little from that experience for there appears to be little effort being put forth to interfere with future election tampering.
News vs Propaganda
There are also problems with those in the media who behave more like propaganda machines than honest brokers of the news. They no longer even pretend to lack bias, and routinely extol the virtues of one party while trashing the other. This results in their gaining a loyal audience of people, who as a result of this confirmation bias, will rarely hear the other side of any story, i.e., they are only told that which is consistent with what they already believe. Those in the news business know conflict sells, and no one is better at promoting conflict than our President. This was noted early in the Trump campaign by the former president of CBS, who said of Trump: "He is damn good for CBS." Little wonder that he seems to have had unlimited access from the beginning of his campaign. As a candidate, Trump must have been very aware of this, for his approach was to exploit divisiveness rather than to promote unity.
The essentials of good stagecraft are followed carefully by Mr. Trump. He utilizes such tactics as always keeping audiences waiting for enough time to make grander entrances, with carefully choreographed "spontaneous" news conferences that occur on the walk to the helicopter where there just happens to be a cadre of reporters waiting to pay homage to the great one. Everyone knows that costuming is important in any show and Trump's genius came into full flower with the Make America Great Again trucker's cap. The ball cap has become a nearly essential part of the working-class uniform of people who had become disaffected and felt left behind. The message printed on them harkened back to a time when living wages were the norm and labor unions were powerful. When Trump donned his cap, he became as one with them. Quickly forgotten was his history of paying starvation wages to immigrant laborers, stiffing tradesmen who worked on his projects, and his privileged "silver spoon" childhood that allowed him to dodge the draft during the Vietnam War and only "get a small loan of $1 million" from his dad to start his business.
Editors Note: Just a few articles to support eshrink's statements above regarding Trump's history of hiring and exploiting immigrant works, stiffing contractors, and using his privilege to avoid military service.
Business Insider: Donald Trump avoided the military draft 5 times, which was common for men from influential families
A Brief History of Trump Swindling Small Business Owners including a cabinet maker from Philly, a paint seller and servers in Florida, a drapery business in Vegas…and that's just the tip of the iceberg.
Fortune: Trump Got a Tax Break for Stiffing Contractors
USA Today: Hundreds allege Trump doesn't pay his bills
Reuters: Trumps Art of the Deal: Dispute Your Bills. A review of 50 court cases brought by workers and contractors against Trump
Nothing Unites like a Common Enemy
Trump has made good use of his showmanship skills to appeal to his supporters who nearly all remain loyal no matter what. They obviously like him and want to believe him consequently, when something unfavorable is written, and he tells them the press is "the enemy of the people", they switch to Fox News to get the straight scoop where they will likely never hear the other side of the story. Mr. Trump has united his "Trumpsters" with the time-honored strategy of inventing an enemy, in this case immigrants, and convincing his followers that they are a menace.
There's No Such Thing as Bad Publicity
Although I continue to believe Trump is significantly impaired as the result of a serious personality disorder, he continues to demonstrate his genius at self-promotion, with adherence to the Public Relations dictum that there is no such thing as bad publicity. With that in mind, he immediately sensed the value of Twitter, an instrument by which one can instantly reach millions with a few key strokes. It is also an effective tool to transmit any message repetitively for it has been proven that when something is repeated often enough, it eventually is believed. If there is any doubt about the success of his strategy, consider this: even though Trump is a serial divorcee who paid hush money to hide his adulterous relationships, used bankruptcies as a business strategy to line his pockets at the expense of others, is known for his casual relationship with the truth, paid $25 million dollars to settle a lawsuit over the Trump University fraud case, and was filmed bragging about his sexual assaults on women, he received 71% of the white evangelical Christian vote!
We now live in a shrinking world with enlarging problems, including perhaps the most pressing one of all, namely climate change, while our energies and attention remain focused on fighting with each other. We ignore the wisdom of our ancestors who when faced with monumental problems coined phrases such as "united we stand, divided we fall" and "we must hang together or assuredly we will all hang separately." Our current problems are unlikely to be solved in an atmosphere where we have no respect for each other's point of view and only react to disagreement with anger. The polarity is so complete that even on a personal level, politics is a taboo subject. Gone are rationale debates, a desire to ensure opinions are based on facts rather than confirmation bias, and a basic interest in seeking the truth.
Impeachment
As I write this, we are in the midst of impeachment proceedings against the President. Although I feel he should be removed, I am fearful that regardless of the outcome, the proceedings may further increase the divisiveness and rancor that pervades the country. Senator McConnell has guaranteed the President will be found not guilty regardless of what evidence is brought forth, but no matter the outcome we can be assured that half of the country will be angry. I even wonder if the words of a hack like myself who enjoys writing about this stuff may in some small way simply harden opinions and inhibit discussion.
Power: The Wisdom of our Founders
This impeachment is in the final analysis about power. History teaches us that power is for most people like money in that we never have enough. That is especially true for those who aspire to positions of leadership. Those who risked their lives in order to found this republic were students of history and well aware of that trait. They also had first-hand knowledge having suffered the consequences of authoritarian rule. They wanted representative government to chart the course of the ship of state, but needed someone to steer it in the prescribed direction. With people being the way they are, I suppose it was inevitable that the guys at the helm would vie with the Congress for power, and it seems clear that Presidents have been gaining in that quest for a long time.
Presidents had been chipping away at the restraints placed upon the power of the executive branch for decades. In my lifetime, Roosevelt defied a predominantly isolationist Congress which was still recovering from World War I to finagle a way to send war materials to England during WW II in spite of their objections. Prior to that, he had been credited with reviving the U.S. economy from the Great Depression. He was elected to four terms and died in office while still immensely popular. Out of concern that others might become "president for life" a Constitutional Amendment was passed by Republicans in 1951 that set the current term limit for the presidency. Ironically, in 1987, Ronald Reagan suggested rescinding the rule.
So far, watching this impeachment thing has been a grueling experience. Nevertheless, I have suffered through a few hours of it. I've come away convinced that if there is no conviction, certainly the most likely outcome, Trump will have wrestled more power for the presidency than did even FDR. I find this very frightening for tipping the scales too far on which that balance of power rests would send us to a very gloomy place. Ben Franklin's answer to the question that was posed at the Constitutional Convention "Do we have a republic or a monarchy?" should be a rallying cry for all citizens:  "A republic if we can keep it."
We are the stewards of this republic: the great experiment of democracy. Most of us did nothing to earn the right to grow up under the freedom, opportunity, and liberty this great nation provides, except to be born here. Our founders and our ancestors did the heavy lifting so we could enjoy the privilege that freedom provides. At the very least, we owe it to the country's founders and our ancestors, to learn about history, to read the Constitution, read the Declaration of Independence, and to refresh our memory of the basic lessons in civics. Get informed. Get involved. Seek the truth.
While it is the sworn oath of those serving in Congress, the President, the Supreme Court, to follow the Constitution of the United States of America, it is ultimately up to each of us to own our part of that responsibility.  To quote President Lincoln who led this country through arguably the most divisive period in our history:
"…that government of the people, by the people, for the people, shall not perish from the earth."