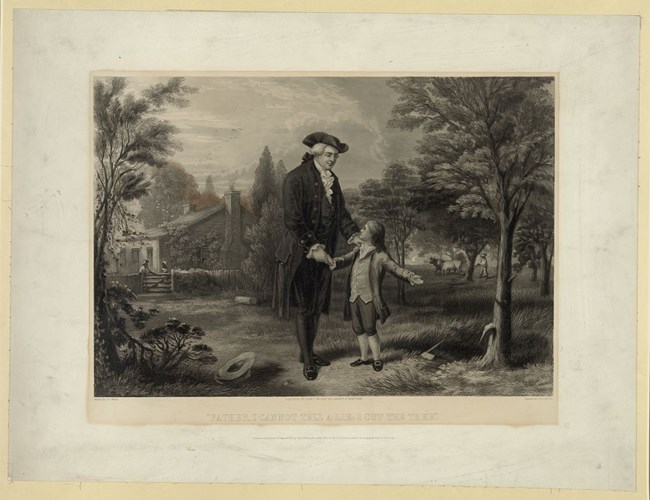 When I was a kid, lying was the ultimate sin and truthfulness was a primary virtue. You might get whacked for doing something bad, but if you lied about it, you were in really deep trouble. We were to follow the example of George Washington who confessed to chopping down the cherry tree because he "could not tell a lie." That fable is probably the only thing I learned about Washington in school, and it was repeated over and over ad nauseum. As I recall, in my earlier days, all behaviors were seen as good or bad, right or wrong, wise or dumb, etc., with nothing in between. There is a certain comfort in such binary thinking for it simplifies life, yet as recent events have shown, truth can be complicated, and thus subject to manipulation and distortion.

Situation Ethics
Early in the last century, a group of existential philosophers including Sartre, Brunner and Heidigger proposed there should be no absolute moral standards, and that one should take into account the context of an act before making an ethical judgement. Later, a group of protestant theologians expanded on that idea and declared that the presence of love is the ultimate determinant of what is ethical. One of these guys, Joseph Fletcher, in his book Situation Ethics stated, "All laws and rules and principles and ideals and norms are only contingent, only valid, if they happen to serve love." Paul Tillich also declared that "love is the ultimate law."
 
Love Conquers All
In the aftermath of the war (WWII), there was a great deal of discussion about ethics and morality, not surprising due to all the atrocities the world had seen. It was also the only war in recent history in which civilian populations were targeted, and state sponsored lying (propaganda) was accepted as the norm. Situation ethics with its emphasis on love appealed to "hormonely" endowed baby boomers since it is not a giant leap from agape to a more intimate type of love. It all came together in the 60s with love-ins, the pill, free love, Woodstock, teen pregnancies, and communes where one could share everything, often including each other. But it was also a time of anti-war protests and civil rights activism leading to the repeal of Jim Crow laws. There were fresh looks at some of our country's previous foreign and domestic policies in terms of the effects they had on individuals. In other words, all these efforts comport with the ideals expressed in Fletcher's version of situational ethics since they all arose out of caring about our fellow man.

White Lies
There is also a case to be made that situational ethics has had an effect on our thinking about the value of truth, as in the use of what were called "white lies." For if truth is hurtful, is it a loving thing? For example, how should you respond when asked by an ugly person if they are ugly? There are many situations in which a one faces a similar dilemma and must decide how much they are willing to lie to avoid hurting someone. But such considerations also provide a mechanism by which one can rationalize lying. Deception has always been socially acceptable in many areas of life, e.g., team sports where faking is often part of the game. Military strategy and propaganda rely heavily on misinformation and now with the availability of digital tools, it is possible to disrupt entire societies without firing a shot, activities at which Russia has proven to be very adept.
Truth in Advertising?
Ever since people had something to sell, lying about their products has been common practice. The first recorded attempt to regulate advertising was the Pure Food and Drug Act of 1906. Currently, the Federal Trade Commission's "truth in advertising policy" consists of a set of rules that attempt to restrict misleading advertising, and there is also a hodgepodge of state laws that usually refer to specific or local products. In spite of all these efforts, advertisers find ways to make us believe things that are not true.
Social Media
Social media has become a godsend for those who want to infect large numbers of people with all kinds of lies including fake news, conspiracy theories, or slander. Fake identities can allow them to remain anonymous while sometimes doing enormous damage. Our government seems to have little interest in fixing responsibility for such content. One study concluded that information transmitted from a friend is also more likely to be accepted as valid than from other sources, which may help explain the rapid spread and wide acceptance of conspiracy theories due to the human need to share secretive information with friends.
Truth Be Damned
The fact checking project of the Washington Post alleges 16,241 false or misleading claims in his first 1095 days as President by our "dear leader." I do find it reassuring to note that apparently the idea that the president could be a pathological, habitual liar is so abhorrent that even an anti-Trump paper prefers to use less personal terms to describe his casual relationship with truth (i.e., the use of the euphemism "false or misleading claims"). Conversely, I was disheartened when recently a person for whom I have a great deal of respect, responded to my comment about Trump's lies with: "But he has done some good things too, besides all politicians lie." I found myself questioning if we have become so inured to lying that it is no longer a big deal, and that lying is now accepted as the new norm. This seems to have been confirmed by Harvard Law Professor Alan Dershowitz when he testified that Trump's lies about his "perfect" phone call were OK since his need to be re-elected was motivated by his love of country. Is that situation ethics on steroids or what?  I feel certain that back in the days when I was learning about Washington and the cherry tree incident, such attitudes towards lying would have been met with a cry of outrage heard round the world!
Research has shown that repetition of lies enhances their believability, and the more frequently they are repeated, the more likely are they to be accepted as true. Propagandists and advertisers have long been well aware of this, which accounts for our being bombarded with the same TV ad every few minutes. Likewise, talented liars make use of this principle by doubling down when caught in a lie. Studies have also demonstrated that lying becomes easier and more believable as one does more of it – practice makes perfect.
The Whole Truth and Nothing But the Truth
My Webster's Dictionary defines truth as that which is true, which I don't find very helpful. Philosophers, of course, have debated its meaning for thousands of years, but I have never been able to understand those guys/girls…which leaves me feeling like a former patient who said he knew his previous psychiatrist was exceptionally intelligent because he couldn't understand a thing he said. One dictionary listed fact as a synonym for truth, but it seems clear to me that the concept of truth encompasses more than just facts. Truth is an ideal, a way of communicating accurately. Without it, life would be totally chaotic, and its absence would put our very survival at risk. Truth can be easily distorted, thus when in court we promise to tell not only the truth, but the whole truth and nothing but the truth.

Context Rules!
For example, in the little George and the cherry tree incident, it is concluded that George was a truth prodigy. However, supposing he noticed that someone saw him chopping down that tree, he would have been wise to say that he was confessing because he valued truth, and hopefully escape corporal punishment. Thus he would have told the truth – (that he had cut down the tree), but not the whole truth – (that he knew he had been busted) nor nothing but the truth – (for his stated reason for confessing: "I cannot tell a lie" was a lie). In like fashion, truth is made up of facts, and the omission of a fact or addition of even a minor falsehood may distort or totally change its meaning. On the other hand, facts without appropriate modifiers or context may misrepresent the truth. In other words, it is not possible to have truth without facts, but facts without truth is not only possible but may hide the truth.

Truth is absolutely essential for the function of a democracy, which our founders recognized early by protecting freedom of speech with the First Amendment. Ben Franklin is quoted saying, "Whoever would overthrow the liberty of a nation must begin by subduing the freeness of speech." Of course, this has been known by despots and authoritarian rulers throughout history. Unfortunately, there is a down side to freedom of speech for such a policy does not exclude the propagation of misinformation. In Ben's day it was much simpler to sort out facts from fiction. We live in the information age where we are deluged with massive amounts of information. Larger segments of the population now rely on the internet for information, and it is often not clear who sent it or where it came from. The Russian election interference debacle provides us with a foretaste of what may be possible in the future, and as artificial intelligence becomes even more proficient at deception, truth could become even more elusive.

The First Amendment, although a protector of free speech, does place some limits (for example, physical threats, child pornography, incitement of violence, national security, etc.,), but many other nations of the world have rigid censorship over the internet and in times of political unrest have been known to shut it down. Such tactics are of course designed to hide the truth. There is currently concern about the role of Facebook in knowingly allowing misinformation to be communicated by its members. It has been pointed out by many who know about this stuff that other media are held to certain standards of maintaining a modicum of truth in their messaging while these new guys on the block have run wild. This will undoubtedly involve the familiar debates as to how far government should go in protecting the public interest without violating the right of free speech, and to what extent lying should be allowed should we even have the power to regulate it.
Truth is not easy- as a matter of fact, it is often elusive, and sometimes painful. Although I am without any particular talent in its disciplines, science has always fascinated me, largely because it is in essence simply the search for truth.
Oil & Water | Truth & The Belief System
Truth sometimes comes into conflict with strongly held beliefs. Consequently, scientists frequently get a bad rap. And so it was with Galileo, who was convicted of heresy, forced to recant his observation that the earth was not the center of the universe, and sentenced to spend the rest of his life on house arrest for daring to report a truth. To a lessor extent, the anti-science movement persists to this day as there are always those who refuse to accept truths that are not consistent with their beliefs or politics. This is now seen in the case of the climate change deniers who may see scientific data regarding climate change as not only a threat to their financial status, but are unwilling to contemplate the pain certain to accompany such a catastrophes that will result from climate change. The response by many of those naysayers is the time honored one of blaming the messenger and insisting it is all a sham [In my post Mother Earth, I cited an article about the mental health of scientists who have devoted their life to the search of the truth]. There are also the creationists who insist the world is only a few thousand years old in spite of mountains of evidence to the contrary because they feel the modern narrative as to how we came to be conflicts with their literal interpretation of Biblical accounts.

Our ability to discern what is truthful is also made difficult by our physical limitations. Our large cerebral cortex has allowed us to out-think other animals, and is largely responsible for our becoming the world's top predator. It has also allowed us to become very curious and that curiosity has led us to attempt to figure out how everything works. In the process, we have created things that were unimaginable only a few generations ago. But when it comes to our primary special senses of sight, smell, and hearing, we are not nearly so proficient as other animals. That, along with our biases and prejudices, may explain why eyewitness accounts are so unreliable, and why it is sometimes difficult for us to perceive the truth.

The Cancer of Untruths | No Matter the Motivation
Previously, I noted the malignant nature of untruths, i.e., how they are so readily promulgated by well-meaning souls who mistakenly feel they are spreading truth. Such situations can also have devastating effects at a personal level on families and individuals. One such case comes to mind in which I was professionally involved many years ago. I was asked to see a man who had been accused of sexually molesting his daughter when she was very young. The daughter had filed charges against her father and he was clinically depressed. The accused father was a middle-class factory worker who had been ostracized from friends and co-workers. However, his wife and other children, all older, refused to believe this could have happened. It turned out the daughter had a history of serious emotional problems and while under hypnosis had recalled memories of the molestation. At the time, there was a great deal of interest in the recovery of memories of past traumas as a therapeutic tool, but many now feel the use of such techniques by overzealous therapists have led to a lot of false accusations. This is especially true when hypnosis is involved, for when hypnotized the subject gives up control of his thinking to the hypnotist. In this case, the father was eventually acquitted, but not before sustaining a permanent stain to his reputation and huge legal bills. Perhaps more importantly, his daughter lost a family and my patient and his wife lost a daughter.

So Much Information | Not Enough Knowledge
Since the onset of the information age about 50 years ago, truth has been even more difficult to find. Information is now a valuable commodity which is sold to the highest bidder, many of whom are not concerned with truth. Truth is powerful and must be hidden if a people are to be subjugated. It has been said that the truth will set you free, and indeed without truth, government of the people, by the people, and for the people would be impossible. Likewise, without a modicum of truth-telling, relationships of all kinds would suffer.
As fallible human beings we are all guilty of exaggeration on occasion, of allowing our biases to get in the way of objective evaluation of information, and we have learned to treat the average fish story as a rough approximation of the truth. Nevertheless, truth is the foundation for every kind of value we hold dear, such as honesty, integrity, reliability, loyalty, sincerity, candor, and justice, to name a few. In my opinion, mere fact checking is not enough. We need conversations about the importance of truth so that it becomes an ideal to be revered, and we all need to become seekers and speakers of truth. Perhaps we should all reread the story of little George and that famous cherry tree.

Next subject as suggested by a reader will be on humility, care to guess why?


Editor's Note: While searching for images for this post, I found it ironic to discover that the story of George Washington and the cherry tree is a myth (another nice word for a lie). How this fable was created and gained such credibility that it was taught in school for decades is an interesting story from Brain Food. Score 1 for technology and truth detecting 🙂  However, I guess the bigger question for situational ethicists would be whether the story of little George and the cherry tree was motivated by love (love of the truth and a way to provide little kids with a story they would remember about how important it is to tell the truth). Oh…Washington didn't have wooden teeth either (that's another thing I was taught in school about Washington)! Brain Food dispelled that myth, too! Until next time…comment, share, and post. Eshrink ROCKS!